How to Wash a Car Like a Pro
The range and quality of tools and chemicals at a
self-serve car wash
make it the best choice for most people deciding how to wash your car. Washing a car by hand gets your car cleaner than an automatic system can, and using a car wash is better for the environment than washing your car at home. Keep reading for what we've learned about how to get the best wash at a self-serve car wash.
Using an
automatic car wash
is still a good option for maintaining your car's exterior when the weather is cold and for people on a tight schedule or with limited mobility. Washing your car regularly (with proper chemicals) is what's most important, and automatic car washes are the most convenient option.
Your car's exterior takes a beating while it's on the road, and even when it's parked outside. Your car collects dirt and particles including dust from brakes and tires. If you live in an area where the roads are salted during winter storms, salt gets everywhere, too. It can scratch your car's paint and reduce visibility through windows. The best way to maintain your car's exterior is to wash it regularly.
When we talk about washing a car, here are the elements that come into play, and the factors that affect your cleaning quality:
1. Equipment and supplies that physically touch your vehicle, such as brushes, cloths, and sponges, plus chemicals like soap and wax that come into contact with your vehicle.
2. Water. While some companies have invented waterless car washing products, these products still aren't quite as good as using water to lift and wash away contaminants. The water quality makes a big difference in the final results and effectiveness of the cleaning chemicals. If the water is hard, meaning it contains a lot of minerals, soap doesn't foam with as much thickness and water spots can form as the car dries.
3. The temperature of the car, water, and bay. Very cold temperatures freeze windshield wiper fluid, drain your car battery faster, and thicken motor oil, making it tougher to start your car. Very hot temperatures cause car wash soap to dry rapidly and leave water spots.
4. Time. The longer the chemicals sit on the vehicle in the bay, the better the results. When you have limited time, you have to adjust how thoroughly you can wash your car.
5. Maintaining an ideal pH balance. Degreasers are high pH high-alkaline chemicals for cleaning soils like grease. Acidic cleaners have lower pH and work best on soils like salts. High pH and low pH extremes can both be detrimental, causing corrosion or water toxicity. Car wash owners speak with soap technicians for advice.
Every approach to washing your car involves all five of those elements. You can choose manual or automatic methods of car washing. First, this guide will look at manual car washing tips.
Using a self-serve car wash for the first time? Don't be intimidated. Compared to all the lights and moving parts in an automatic car wash, it can look barren, but it's actually very simple and cost-effective to use. A standard self-service car wash bay provides you with a
sprayer hose
,
car washing brush
, and
coin box
alongside the walls of the bay. Here's what to do when you arrive:
1. Drive into the bay and make sure that there is plenty of room to walk around all sides of your car.
2. Do a basic inspection of the vehicle to look for extra dirty areas with bugs or salt. Also look for road debris in tires.
3. Enter money into the pay station. The amount of money that you put in equals the amount of time you have to use the bay. Many car washes accept credit cards. If you need to have coins, look for a change machine, which is often located centrally for all the bays at the car wash. Don't worry about being cut off without a chance to add more time: many of today's self-serve coin boxes come equipped with a last coin alert which will beep before your time is about to expire.
4. Familiarize yourself with the different settings on the coin box for cleaning your car. You can use as few or as many settings as you'd like while in the bay. Grab the sprayer hose and select the pre-soak setting. The pre-soak starts the soaking process to loosen up dirt. Using the spray wand, spray your car from the top down.
5. Switch to the wheel and tire cleaner setting in the bay. It is different from a regular soap setting, since it uses heavy-duty chemicals to remove brake dust. The wheels and tires accumulate the most salt and road grime.
6. Switch to the wash setting and wash the surface of the car from the top down. Be sure to squeeze the trigger of the sprayer gun to get full pressure. The bottom of the car is closer to the road and is often dirtier than the top. You don't want to bring the dirt and debris back up towards the top while you're cleaning. The wash setting may not be as soapy as you expect, but it's very effective for quickly removing the bulk of the dirt from your car.
7. Next, select the Soap setting and use the hose to cover the entire car in suds. The sudsy soap loosens up the remaining dirt and grime on your car.
8. Grab the foamy car washing brush, but before you use it, use a spray hose to rinse it thoroughly to get the old dirt and debris off it. The person ahead of you may have set the brush on the ground, and you don't want to scrape gravel across your car. Then change the setting to Foam Brush. Wait until you see foam coming from the brush, then use the foam brush over the surface of the car. Gently glide across the surface using a back in forth motion in straight lines – swirling around in circles may leave swirl marks if the car washing soap and water is not properly rinsed and dried afterwards.
9. Next, select the Rinse setting, and rinse the car with water from the spray wand. Make sure to wash off all the soap so spots of soap won't stay on the car's paint.
10. If you select a Wax setting, it will coat the vehicle with a fine layer of wax and help protect the surface of the paint.
11. Switch to the Spot Free Rinse setting. The water in this setting has a lower pressure so that it won't leave water spots, making it perfect for the final rinse.
12. Once you're done cleaning your car, don't forget to use features you may find in the bay like the Air Shammee handheld dryer. It blows hot air over the vehicle to reduce the risk of water spots. You can also vacuum out your car interior using one of the vacuums provided by the car wash. Keep your car smelling fresh and clean after the wash with a Little Trees air freshener from one of the car wash vending machines.
Why Wash at a Self-Serve Bay?
Pros

Good quality clean and lower risk of damage since you control how you're cleaning.
You can clean your car on your own time, and you can spend more time cleaning the parts of the car that need attention.
If you clean fast you won't need to spend as much money as you would with automatic cleaning.
Cons

Not the best choice if you are in a hurry.
You need to familiarize yourself with the cleaning settings and tools available and use them correctly.
1. Bug Remover is usually used at the beginning of the wash process. Spray it on the front of the grill, windshield, and side rearview mirrors to scrub off stubborn bug stains.
2. Wheel and Tire Cleaner acts as a degreaser to remove brake dust.
3. The Presoak function starts the soaking process and gets off initial dirt and debris.
4. High Pressure Soap cuts through dirt and grime.
5. Use the Foam Brush to swipe dirt off your car.
6. High Pressure Rinse is a pressurized stream of water that comes through the nozzle.
7. Wax acts as a sealant for polish to stay on, giving your car a lasting shine.
8. Triple Foam Conditioner, made up of 3 foams, will leave a shine and is hard on dirt.
9. Use Spot Free Rinse as the last step of the wash process. It gets rid of any leftover residue from the high-pressure rinse.
10. Self-Serve Tire Shine will leave a slick sheen on your rubber tires making them appear brand new.
11. Undercarriage Cleaner has nozzles pointed upwards to wash dirt, mud, and salt from underneath the vehicle.
12. Use Engine Cleaner is used to degrease any filth on your engine.
13. Clear Coat Protectant seals in shine to keep your car's coat looking like new.
14. De-Salt gets salt off your car during the winter months.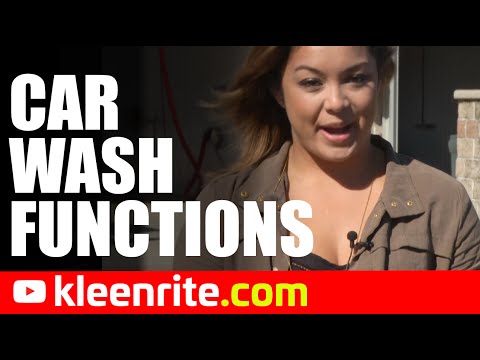 If you know which car cleaning chemicals and supplies you want to use, there's always the option of washing at home. While Kleen-Rite doesn't recommend hand washing at home – see our pros and cons video below – we'll show you the best way to wash a car at home if you're going to do it.
Kleen-Rite recently observed Robert Herman washing his car. Herman said that the following products were among "the best car wash products he has used:"
1. Park your car in the shade. If it's too hot outside, soap and water may dry on the car's surface before they're fully rinsed off, leading to water marks.
2. Here's what you need to wash your own car: car washing soap, wash mitt, 2 buckets, hose, and a drying towel. We recommend using a microfiber drying towel because it will pull up dirt and be soft on your paint. Do NOT clean with dish soap or other household cleaners. Wax is a form of grease and protects a car's finish, while dish soap and most household cleaners strip away grease. Therefore, you'll be stripping away protection of your vehicle's surface. Be sure to use soap that is safe to use on cars (see Wash at Home Products section).
3. Start by rinsing off your car with a hose. Dirt runs downwards, so wash from the top of the car down towards the bottom.
4. Next, get 2 clean buckets. Fill one bucket with water and car wash soap; fill the other with clean rinse water.
5. Dunk your microfiber wash mitt or cleaning cloth in the soap bucket and cover the car with soap. Move your wash mitt over the top of the car and move downwards. Clean in a straight back and forth motion – do not use a circular motion as this may leave swirl marks if it is not promptly rinsed and dried.
6. When you need more soap to cover car surfaces, rinse off the wash mitt in the rinse bucket. Then dunk it in the soap bucket and continue cleaning your car.
7. Rinse off the entire exterior surface of your car with your hose.
8. Use a separate microfiber drying towel solely for drying off the car. Start from the top and dry down – use straight back and forth strokes motions with no circles, and don't press too hard on the towel. We recommend drying off the car with a towel - rather than simply letting it air dry - to reduce the risk of water spots on the paint, windshield, and side mirrors.
Using ArmorAll Drying Towels part# AR17621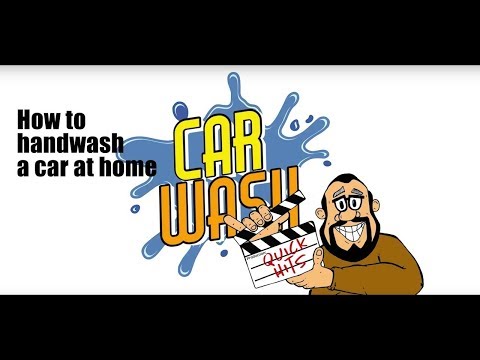 Why Wash at Home?
Pros

You control the cleaners and car washing supplies you use to clean.
You can spend as much time as you want cleaning without worrying about being timed or spending money like at the self-serve car wash.
Cons

You provide all your own car washing supplies.
A home wash uses about 80-140 gallons of water per car, whereas the car wash uses 30-45 gallons per car.
Chemical run off can contaminate the environment, whereas the car wash has a draining system that can recycle water. The car wash has systems in place to separate chemicals into the sewer system.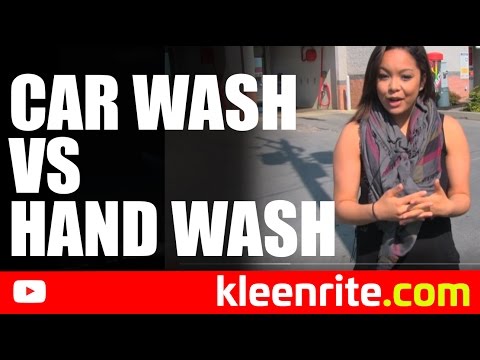 Don't have the time to wash your own car? Let the car wash do it for you! When you choose the automatic car wash, you'll get a complete wash experience faster than you would washing your car by hand, with almost no effort.
Some washes may also offer subscription services. If you love using automatic car washes because they save time, you'll love a wash subscription. Programs vary by car wash. For example, you could pay one monthly price for an unlimited number of washes. In short, wash clubs and subscriptions provide the fast and convenient buying process that many of today's busy customers are looking for.
There are two types of automatic car washes: in-bay and tunnel. With an in-bay automatic car wash, your car remains stationary while the machinery moves around it. With a tunnel automatic car wash, a conveyor moves your car through multiple stations between the entrance and exit.
Save time with an in-bay automatic wash. Once your car is inside the bay, a signal informs you to stop. Then, pieces of car wash equipment move around your car on a track, performing a function such as applying soap or rinsing. There are two types of in-bay automatic car washes: friction automatic and touchless automatic. The touchless automatic relies on a high pressure water and car wash detergent to clean. Only the water and chemicals actually come in contact with the car. Friction car washes use soft cloth that moves against the car's surface. Here's what to do when you pull up to the in-bay automatic:
1. Select your wash options and add-ons at the terminal. It's more important that you wash your car regularly than that you choose every option, so choose options you can afford on a frequent basis.
2. Drive into the wash bay, and sensors on the wall will tell you where to park your car and when to stop. Once you're inside the bay, you'll see options like the following: Drive Forward, Stop, Back up, Soaking, Triple Foam Polish, Clear Coat Protectant, and Spot Free Rinse.
3. While you're parked, you'll notice the car wash equipment beginning to move back and forth and around your vehicle to clean it.
4. The wash will begin with a low pH presoak to get the grime off the car and start the soaking process, which is also known as dwell time.
5. Then soap and suds wash the surface of the car. Your experience depends on whatever add-ons and cleaning options you select. For example, you may choose a triple foam polish or clear coat protectant. The polish, made up of 3 foams, will leave a shine and is hard on dirt. Clear coat protectant is a sealant which provides shine and protection to keep your car looking like new. The spot-free rinse is the final stage to rinse all the soap off of the car.
Why Wash at a in-bay automatic?
Pros

Provides the fastest wash and saves you time.
Touchless automatics reduce the risk of scratching paint.
When it's really cold outside, you'll have the comfort of staying in your vehicle and having the machine clean the car for you.
For the elderly, handicapped drivers, a parent with children in the car, or patrons in business attire that don't want to risk getting suds and soaps on them, the in-bay automatic allows you to wash your car without getting out of the vehicle.
Touchless automatics are perfect for quickly rinsing off winter road salts.
Cons

Some say that the cloth cleaning strips in the friction automatic can leave fine scratches called swirl marks on the paint.
The touchless automatic does not actually scrub the vehicle – it sprays water and chemicals. Think of it like putting soap and water on a dish plate. Now think of the same dish plate scrubbed with a sponge. You will always get a cleaner vehicle by scrubbing it.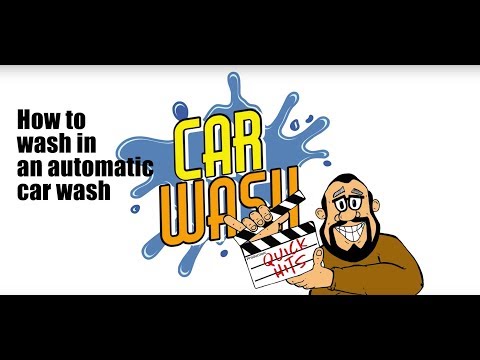 Of the many ways to wash a car, the automatic tunnel contains the largest amount of machinery and moving parts. It is the largest of all the car wash bays and takes up the most space on the car wash lot. However, it is automated to do all the work so that you don't have to! Here's what to do when you arrive:
1. Select your wash options. A basic wash, foam, rinse, and dry package will work fine, or you can choose a complete wash package with colored and scented foam, wax, and shine.
2. Drive forward until the vehicle's front tires are aligned with a track system that will guide the car through the wash. Lights, arrows, or the car wash attendant will notify you when you've placed your vehicle onto the track.
3. Put your car in neutral and the conveyor belt or chain pulley will guide the car past different pieces of equipment. There are 2 standard conveyor systems: front-wheel pull, which engages your car's front left wheel, and rear-wheel pull, which engages your car's rear left wheel.
4. The first stage of the wash is the pre-soak, where small nozzles spray a chemical solution over the car to begin loosening road dirt.
5. Then, the car passes through a mitter curtain, which is a series of long, soft strips of cloth that hang from the top of the tunnel. The cloth runs back and forth across the surface of the car.
6. Next is the foam generator which applies car wash detergent. The mix of a chemical cleaner (specialized soap) with water and air creates the foam. Often, the chemical contains color to make the car wash experience more eye-catching.
7. Next the car moves past scrubbers, which are large vertical cylinders with small cloth strips attached. As the scrubbers rapidly rotate around, the soft cloth strips spin and brush along the sides of the car.
8. A high-pressure washer with rotating water jets spray a stream of water onto your car. The blast of water provides a powerful scrubbing action on the car's surface. If you choose a wash with an undercarriage wash option, several nozzles on the ground spray upward to wash dirt, mud, and salt off the bottom of your car.
9. Next, the car goes through the rinse arch, which removes residue from cleaning chemicals. The final rinse in the tunnel uses clean, non-recycled water.
10. If you've selected it, a wax is also applied, forming a water-resistant coating and leaving a clear, thin film to protect your car's paint. The car then goes through a final rinse after the liquid wax is applied.
11. The final step in the process is the dryer. Nozzles force out hot air to rapidly dry your car's surface.
An enhancement to the tunnel wash is a full service wash. In addition to the exterior cleaning, the interior of your car is manually cleaned and vacuumed by car wash attendants.
Why Wash at a Tunnel Wash?
Pros

With this method, your car will go through many stages of the car cleaning process in a short time.
As the driver, the only thing you need to do is put your car in the neutral position, sit back, and relax.
Often, car washes equip their tunnel bays with different colors and scents of soaps to please the senses!


Cons

If your car is not dried completely by the time it leaves the tunnel and it is a hot day, you might see a few water spots that remain on your car.
There is a slightly higher chance of scratches occurring as a result of the cloth friction cleaning process.
Antennas, sideview mirrors, and car molding can get damaged from the high velocity spinning brushes.
If you drive a pickup truck, be sure to remove all debris or items from the bed of your truck before entering the tunnel.
Each car wash has a different height restriction, so some larger vehicles do not fit in every tunnel wash.
Newer car models like the Tesla Model S, Audi A6, and BMW 5 Series have automatic brake assistance. While this acts as a great safety precaution, it also makes it nearly impossible for these cars to go through a tunnel. Even though the car is in neutral, the sensors detect the car washing brush moving toward the front of the vehicle, causing the onboard computer to lock up the tires and shut down the tunnel.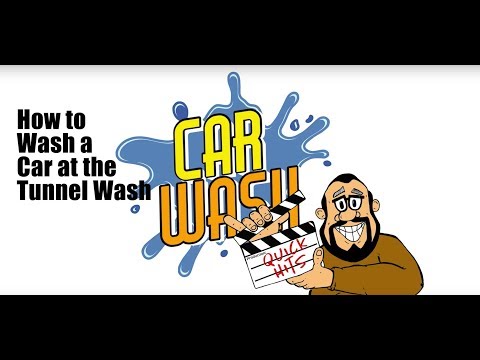 Your car is a major investment. You've spent a lot of money to buy the vehicle, so it only makes sense to take care of it. Whichever car wash method you choose, you'll want to keep it nice and clean for as long as your own it.